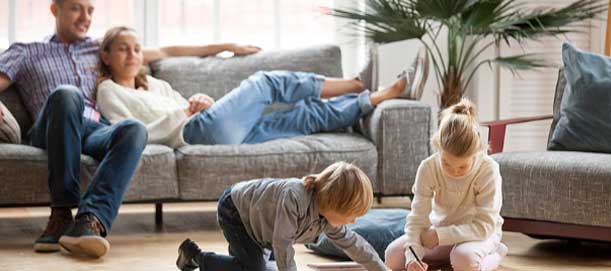 Indoor Air Quality in Springfield, VA, Alexandria, VA, Arlington, VA
Please understand your properties Indoor Air Quality is extremely important for your HEALTH for every home in Springfield VA, especially those with asthma allergy or sufferers. According to EPA studies show that even in the smoggiest cities, in Arlington VA, Alexandria and Springfield VA, the air inside most modern homes is usually at least ten times more polluted than the air outside in Northern Virginia. Talk to an Ever cool Heating & Air Conditioning Expert by calling (703) 451-5505.
FACT: Air pollution is a critical issue — especially within your home! The EPA has named indoor air pollution among the top 5 environmental dangers to public health. One hundred times!
Do not just treat the symptoms — remove the issues in the atmosphere in every room of your house – – from the bedroom to your basement with an air cleaning system.
What's a Whole-Home Air Cleaner?
Whole-Home Air Cleaners create your air as clean as possible by removing particulates from the atmosphere, letting you breathe healthier air — important to those with asthma and allergies and for those who want the cleanest air possible for their and their loved ones. An Air Cleaner installed with your heating and cooling, will help rid your home of dust, dust mites, pet dander, mold spores, pollen, viruses and germs, smoke and much more!
How Does This Work?
Air Cleaners are installed nearby as part of your VA's home's central heating and cooling — completely from the way and out-of-sight. That means each and every time your machine operates, the atmosphere in your house is filtered through a state-of-the-art filter press removing potentially harmful contaminants out of every room of your home. The resulting clean air is then spread through your heating and cooling system's ductwork to your entire house.
Breathe cleaner air using a Ultraviolet Treatment System. If you'd like improved air quality in your house, set up a UV-C Treatment System to operate alongside your central heating and cooling system. Your entire home comfort solution will make the air in your home cleaner and more comfortable for you and your loved ones. By employing UV-C lamps, particles and germs are destroyed and prevented by being re-circulated into the air in your house. cleaner air…trust an Ultraviolet Treatment System.
Checking & Maintenance
What's your bottom line?
a) Savings: Preferred Maintenance Service Agreements typically more than pay for themselves through higher efficiency, less utility over payment.
b) Priority Service: Ever Cool customers with a Preferred Maintenance Service Agreement Receive priority service.
c) Peace of Mind: Preventive Maintenance will mean fewer system failures and a longer life for your HVAC equipment.
Preventive Maintenance Equals Cost Savings!
Preferred Maintenance Service Agreements and agreements between you and Ever Cool Heating and Cooling, Inc. for scheduled inspections and preventive maintenance of your heating, ventilation, and air conditioning systems.
Preventive Maintenance Schedule
Preferred Maintenance Service Agreements are generally scheduled every six months to maintain peak efficiency, prevent utility over-payment, and avert system failures through predictive maintenance that help extend the life of your HVAC equipment.
Proudly Serving Virginia Since 2003

Honest and Fair Pricing

Call Now for a Quote! 703-451-5505

Award-winning HVAC service That Soars Above the Rest

EXPERIENCE – HONESTY – QUALITY OF WORK

Our High Trained Heating & Air Conditioning Contractors

Honest and Fair Pricing

Call Now for a Quote! 703-451-5505

License & Insured

Over 20 Years of Experience

Honest and Fair Pricing

Call Now for a Quote! 703-451-5505
Benefit of Service
Why is Indoor Air Quality So Important?
1)
Elimination of allergens. …
2)
Better breathing. …<//p>
3)
Better sleep. …
4)
Reduced odors. …
5)
Balanced humidity. …
6)
Reduced energy costs.
Understanding the Relationship Between Heating, Ventilation Air Conditioning Units in Springfield, VA, Alexandria, VA, Arlington, VA
Your homes residential air conditioning system pushes out hot or cold air but does much. Heating & Air conditioning systems today, help control what's known as IAQ or "Indoor Air Quality in Springfield VA."
Why is this important?
Your breathing air quality indoors affects your comfort, and health, and wallet. Air conditioner HVAC systems today, especially high-efficiency systems, help control what's known as IAQ or "Indoor Air Quality."
Why is this Vitally important?
Indoor air quality in Springfield VA can affect healthy clean air comfort and wallet your fresh and healthy. Your residential heating and air conditioning unit in Springfield does much more than just push out cool air. IAQ is a cleanliness of the air (no dust or pollen), humidity, temperature control and odor.
WHY IS PREVENTATIVE MAINTENANCE IMPORTANT?
Investing thousands of dollars into your home comfort systems and then neglecting to care for them not only means a higher chance for costly repairs and breakdowns, but it can impact the quality of air in your home, as well. 30 Mile Radius from springfield, Virginia
a)
Reliable, efficient performance
b)
Cost savings on energy bills
c)
Longer life for your unit
d) Installation:
Precise installation performed by our experienced technicians ensures optimal and lasting performance Repair: From minor repairs to emergency fixes, we cover it all.
e) Replacement:
If repair is not possible, we provide you with the most effective options that fit your needs.
An annual check of your system will ensure:
1)
Reliable, efficient performance
2)
Temperature control when you need it the most.